Welcome!
We know you have a choice in where you do business and we want to thank you for choosing Brown Dog Marketing.
If you appreciate amazing customer service, quality products and competitive prices that come with Brown Dog Marketing's Price Guarantee, that we will match or beat any adverstised price then we would love the opportunity to show you why we are "Top Dog" in the industry.

The Brown Dog Guarantee:
• Quality Products
• Great Service
• Competitive, Low Prices
• We Will Match or Beat Any Advertised Price
You can choose how you want to work with us.
Option 1 : We are totally automated so you can place your entire order online.
Option 2 : Email us or call the office which will allow you to experience our award winning service plus you will get a lower price 97% of the time.
Option 3 : We even make house calls. Yes, we do believe in doing business the old fashioned way. We would be happy to come out to meet with you or set up a phone meeting
Option 4 : Contact Jim, our founder and President, directly at (908) 507-1678. He would love to hear from you. What other company offers that level of access to their president?
Featured Item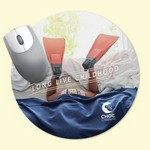 Barely There™+BW130 8" Round x.02...
These popular Barely There™+BW130 8" Round x.02" Ultra-Thin Mouse Pads deliver huge impact in an ultra thin profile. If your promotion involves a mailing or an insert, thin, lightweight Barely There™ ...
$1.87 - $2.40